Pediatric Chiropractic Care at
Balanced Movement Chiropractic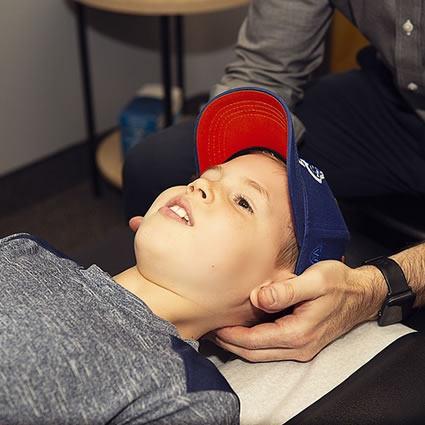 The birth process is traumatic on a newborn's spine, even in a natural birth with no interventions. Pediatric chiropractic care is about determining if the spine is moving correctly to allow for optimal nervous system function. By locating and correcting spinal misalignments, we can remove nervous system interference so messages between the brain and body are delivered properly—meaning your baby can grow and develop as they should.
Our Approach to Care
At Balanced Movement Chiropractic, we encourage parents not to wait for symptoms to show up. By the time your baby shows signs of colic, the nervous system interference has already been there for some time. We strive to prevent issues from arising by correcting subluxations before they have a chance to cause problems.
Dr. Justin has extensive training and experience caring for kids from newborns through the teenage years, and is certified by the International Chiropractic Pediatric Association (ICPA). Our office is designed with kids and families in mind, and we welcome the energy and pleasant chaos of having children in the office. We even have private space available for you to use if you are nursing.
If you're bringing your infant for care, we suggest bringing extra diapers, as adjustments can often quickly restore proper bowel function. We'll do a thermal test and nervous system test to help identify where subluxations exist, and we'll ask you about labor and delivery and anything you may have noticed about their daily habits, such as bowel movements and sleep.
We have special pillows for babies, or they can lie right on Mom or Dad. Adjustments for infants are extremely gentle—about the same pressure you'd use to check a tomato for ripeness. And if a baby or child isn't ready to be adjusted that day, that's fine. We'll wait until they're comfortable with us and the process. Dr. Justin has two young kids of his own and is great at taking his time and building rapport with children.
Schedule Today
Don't wait for symptoms to appear—contact us today to book an appointment for your baby or older child.
CONTACT US

Pediatric Chiropractic Nampa ID | (208) 466-4600