New Patients at Balanced Movement Chiropractic
We consider your initial phone call to book an appointment as the beginning of your relationship with Balanced Movement Chiropractic. Our staff will listen and get to know you, and they'll answer all of your questions and make you feel valued and appreciated before we even meet you. You can download and complete your new patient paperwork before you come in. Please remember to bring your ID and insurance card to your first appointment.
NEW PATIENT FORMS

Your First Visit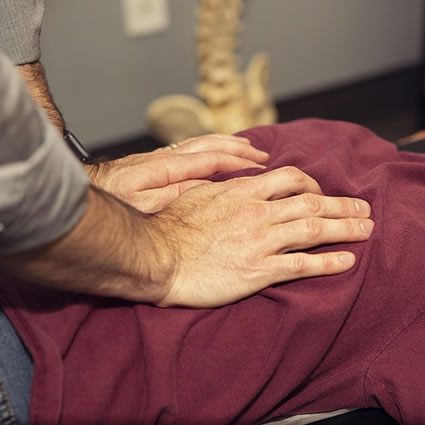 When you come in for your initial visit, our staff will greet you and make you feel comfortable and welcome. You'll meet with your chiropractor, who will go over your full history, including spine health and overall health issues. We strive to help you understand that whatever you're currently experiencing is rarely the result of an isolated incident, but a culmination of events that have occurred over time.
We'll talk about the three types of stress—chemical, emotional and physical—and drill down into which of those you've been experiencing. We'll also explain the connection between your spine and nervous system, and how those relate to overall health.
Next, we'll start your evaluations. We use the CLA INSiGHT™ scanning technology, which includes a thermal scan, surface electromyography and heart rate variability test. These tests are non-invasive and show us what's going on in your muscles and nerves. We'll also do a spinal evaluation to assess the muscles, joints, ligaments and vertebrae.
You'll most likely receive an extra-gentle adjustment at this visit. Plan on being here for about 45 minutes.
Your Second Visit
At this visit, we'll go over the results of your examination and scans and show you the problem areas. We explain our recommendations for your care plan and, if you're ready to begin, we'll adjust you.
Our front desk or office manager will discuss the financial arrangements as well as your insurance coverage at this visit as well. You'll be here for a total of about 30 minutes at this appointment.
Book Today
Contact us today to schedule. We are in-network with most insurance plans and offer military discounts.
CONTACT US


New Patients at Balanced Movement Chiropractic | (208) 466-4600